A Radical Capitalist View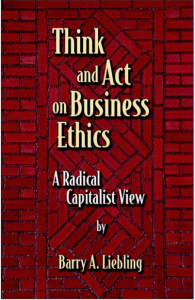 Discover the essential principles for recognizing what is ethical:
• Learn how to think clearly about the ethics of business activities. Gain the conceptual power to discern exactly what makes a business action morally right or wrong.
• Employ a systematic procedure for charting a course of action for your business decisions. Know what steps you should take to assure that you conduct business ethically.
Benefit by acquiring:
• An understanding of how to enhance your prosperity with Radical Capitalist ethics.
• Valid arguments for convincing others that Radical Capitalist ethics are correct.
• Intellectual ammunition to defend yourself against unjust attacks on Capitalism.
Learn why:
• Conventional "business ethics" are untenable.
• The customer is not always right – but you should be.
• Honesty is crucial even if you never talk with anyone else.
• Coercion has no legitimate place in business.
Click here to see Table of Contents pdf.
Think And Act On Business Ethics:
A Radical Capitalist View
ISBN 1-932877-02-9.
Quality Paperback. 8.5 inches x 5.5 inches.
128 pages. $20.00. Alert Mind Publishing, LLC.